CO2PENHAGEN Cycle Parade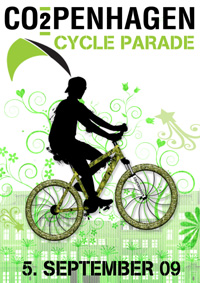 JOIN THE CO2PENHAGEN CYCLE PARADE
On Saturday the 5th of September a bicycle parade will fill the streets of Copenhagen.
The parade starts at Kongens Nytorv and ends at the Technical University of Denmark, where the carbon-neutral festival CO2PENHAGEN is happening over the course of the weekend.
WE MEET AT 9:30 AM AT KONGENS NYTORV
There will be a welcoming ceremony with a speech by the Environmental Mayor of Copenhagen, Klaus Bondam, and a morning disco hosted by Electric Boogie Master Henrik Milling from P3 radio.
We'll be serving a healthy, yummy and free breakfast before we head off together on the beautiful ride with end destination at the festival site.

If you've got a bike, come and join us.

If you've got a crazy bike –even better!
All cycle enthusiasts welcome!
Program:
09:30 WELCOME. BREAKFAST. HENRIK MILLING GROOVE AT KGS. NYTORV
10:00 SPEECH BY KLAUS BONDAM
10:30 DEPARTURE